Go Back
Feel Free To Contact Us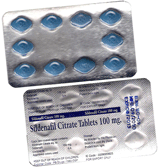 Sildenafil Citrate (Seagra) : Men's Health
Synonyms:Magara, Pfigra
Sildenafil Citrate is a prescription medicine developed and patented by an American pharmaceutical company – Pfizer. The drug was primarily developed to reduce the tension of the pulmonary artery in Pulmonary Arterial Hypertension (PAH). Sildenafil is a proven remedy to treat PAH as it acts as a muscle relaxant and subsequently reducing the blood pressure in the pulmonary artery and leveling out the tension in the artery. This unique nature of the medical compound found its use to treat Erectile Dysfunction (ED) in men.
Erectile Dysfunction or ED is a condition which occurs in men and is not limited to any age. The condition of ED is primarily concerned with the loss of ability to get and maintain the erection of the male reproductive organ. Erectile Dysfunction in men is caused due to vivid reasons as known to mankind. The reasons may range from physical, physiological and psychological phenomenon occurring in the life of the individual. Physical reasons related to ED are physical tiredness, fatigue and physical stress. The physiological reasons associated with ED are due to unhealthy lifestyle and poor sleep patterns. The psychological reasons associated with Erectile Dysfunction are mental stress, boredom, loss of interest and mental fatigue. However, the primary accepted medical reason expresses insufficient supply of blood to the penile tissue and the latter loss of erection.
Erectile Dysfunction is a leading condition which causes impotence in men all over the world. It affects the life of many couples and individuals on the face of Earth. The area of concern involves loss of erection and disruption of sexual life of many individuals. The medical condition causing Erectile Dysfunction happens due to inadequate blood supply to the tissue of penis- corpus cavernosum. Sildenafil acts by improving the blood supply to the designated tissue. In Erectile Dysfunction, the enzyme phosphodiesterase type 5 is responsible as it depreciates the blood flow by clenching the nearby muscles and hence constricting the blood vessels and surrounding capillaries. Sildenafil Citrate acts promptly over it. Sildenafil gets absorbed in the blood at a really quick pace as when consumed. On absorption, its immediate action involves release of nitric oxide in the blood stream. Once, the released nitric oxide reaches the penis tissue, it binds with the receptors of the enzyme guanylate cyclase. The resulting reaction is production of compound cyclic guanosine monophosphate whose nature is to relax muscles. Thus Sildenafil Citrate acts as an upfront muscle relaxant and it relaxes the muscles around the penile tissue. In occurrence of this event, the tension over the blood vessels is reduced and this increases the supply of blood to the tissue and thus engorging the organ with ample of blood. This engorging action helps in getting erection of penis. The effects of released nitric oxide last for a long time and hence this keeps the erection for a longer time. The erection occurring for a sustained period thus helps to deliver better sexual performance and gradually tackles impotence in men.
Sildenafil Citrate is thus considered as phospho-di-esterase type – 5 enzyme (PDE-5) inhibitor and thus causes upheaval of blood flow resulting into stronger and power erections. This impotency resolving nature of drug finds it benefit to a lot of men afflicted by impotence. Sildenafil Citrate is a patented product and thus happens to be a prescription medicine. Its uses are just not limited to treatment of Erectile Dysfunction. Sildenafil Citrate is also used to treat high altitude pulmonary edema, a condition commonly found and prevalent in mountain climbers and people residing at higher altitudes. In this condition, there is too much influx of blood to the tissues all around the body. This occurs because of the surrounding low pressure of atmosphere at such great heights. The treatment of this edema clad tissues is done by Sildenafil Citrate. Mountaineers who are known and prone to great heights do happen to be prescribed with this medication. This phenomenon is also termed as altitude sickness.
The dosage of Sildenafil Citrate is regulated by the prescribing professional medical practitioner. The prescribed quantity is available in the variants of 50mg and 100mg, though common dose administered is generally of 100mg. The dosage of the medication is limited to single dose within a span of 24 hours. Sildenafil is also available in some countries without prescription; however, senior men are strictly insisted to go in for medical subscription of the medication. Over the counter delivery of Sildenafil Citrate is also available and it can be purchased online. Online purchase of Sildenafil Citrate is allowed and the medication being patented is approved by FDA. The dosage of Sildenafil should not occur on daily basis. The necessary quantity of the medication is to be taken only when the urge to carry sexual intercourse is found within the consuming individual. The drug is also available in easy water soluble forms but it is encouraged to consume a full glass of water while consuming the medication. This helps to give very effective results for the drug. The drug should be consumed 30 minutes to an hour before commencing the sexual activity.
Sildenafil Citrate should be consumed with precautions. Alcohol does not allow quick absorption and assimilation of the medication and thus hinders it effectiveness and hence alcohol and any other kind of spirit rich beverage consumption should be avoided. Further, the foods rich in fatty acids and whole fats should be avoided. Fatty foods are generally hard on digestion and this affects the absorption of Sildenafil Citrate. Precautions should be taken when it comes to administer the medication to people having cardiac history. People suffering from cardiac problems and liver problems should not take Sildenafil Citrate as it may result in severe reduction of blood pressure. The people suffering from heart problems and high blood pressure are prescribed to medicines which are acutely used to reduce the blood pressure in the individuals. When Sildenafil is used, it acts along with the taken drugs and thus reduces the blood pressure very much. This would result in serious consequences and thus leading to medical complications. Similarly, people having medical anomalies like diabetes should not consume the medication as the drug may play a part in causing hypoglycema – a condition involving lowering of blood sugar to much lower levels thus sickening the individual. This may occur because sexual intercourse is a very intense physical activity.
Sildenafil Citrate should not be consumed having liver problems as the drug may not be absorbed properly into the blood stream. Smoking and Tobacco consumption should be avoided before taking the medication because it contains nicotine which increases the level of adrenalin in the blood and it elevates the muscular activity thus hindering chances of strong erection. The effect of the medication is known to last for almost 4 hours. If the erection persists for more than 4 hours then one should consult a physician. Further, occurrence of strong painful erection is possible in some cases and hence one should consult a medical practitioner. Sildenafil Citrate is an aphrodisiac and is known to bring in strong desire to carry out sexual intercourse.
Sildenafil Citrate should not be taken with drugs which are PDE-5 inhibitor. Further, medicines used to treat heart problems contain nitrate compounds like nitro glycerin, isosorbide, nitro prusside and related nitrites. They are used to control the tension in the blood vessels by controlling blood flow and are known to reduce blood pressure. Further, PDE- 5 inhibitors like tadalafil, vardenafil should not be consumed along with the medication. Further if an individual is using recreational drugs or 'poppers' which are known to cause happy feeling and other euphoric medications like amyl nitrate or nitrite, butyl nitrate or nitrite, then consumption of Sildenafil Citrate is prohibited. Before consuming Sildenafil, one should not decide to be pregnant or is breast feeding. One should not be prescribed to herbal preparations and dietary supplements. Individuals who are allergic to certain foods and medications which fall in the class of Sildenafil Citrate. People having deformed penis and other penile problems like cavernosal fibrosis, Peyronie's disease are not advised to consume the medication. Individuals having blood cell problems like Leukemia, sickle cell anaemia, multiple myeloma are not allowed to consume the drug.
Sildenafil, like other medications, is also known to cause Side effects. The side effects occurring are limited only to 15% of the prescribing population. Blurring of vision is a common problem which is seen in almost 10% of the population which occurs due to elevated blood flow to the eyes and retina. Further, it is also known to cause bluish vision. Sildenafil may cause hearing problems and it is hardly observed in 1% of the population. Hence, people having history of eye problems like optic neuropathy, macular degeneration, pigmentosa and retinitis should consume the drug with caution. Also, ringing of ears and decreased hearing is prevalent scarcely among the consuming individuals. People having problems of ulcers and internal bleeding are discouraged from the medication use.
Sildenafil Citrate side effects are aggravated and increased if it is taken along with medications namely- Alpha-blockers (eg, doxazosin),Azole antifungals (eg, itraconazole, ketoconazole), H2 antagonists (eg, cimetidine), macrolide antibiotics (eg, erythromycin), HIV protease inhibitors (eg, ritonavir, saquinavir), and narcotic analgesics (eg, dihydrocodeine), or telithromycin). Further drugs like Bosentan or rifampin are believed to decrease Sildenafil's effectiveness.The common and not so serious side effects involve dizziness, headache and mild body pain. Other side effects of mild nature are chest pain, stomach ache, swelling of palms and abnormal sweating. Chronic chest pain, diarrhea, arms and limb swelling and temporary vision loss are some severe side effects. On observation of the described side effects, one should immediately discontinue Sildenafil Citrate and approach a qualified medical practitioner.
Sildenafil Citrate is a magical medication available in form of soft tabs, gel and pills. It is that magic pill which cures of impotence in men and helps to maintain a happy intimate relationship. Accepted world-wide, Sildenafil Citrate is a prime leader to treat male impotence.