Penegra
Go Back
Feel Free To Contact Us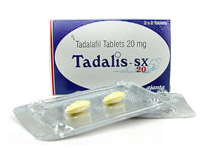 Tadalis SX: Men`s health
Tadalis SX is a form of Generic Tadalafil used to treat an erectile dysfunction in men. Tadalis SX is usually prescribed for men with problems to get and keep erection; it acts only with sexually stimulation. The medication of Tadalis SX helps to relax blood vessels in the penis allowing the blood to flow in the penis. This is not expensive because its manufacturers do not have to invest in marketing, promotion or development.


Important information: -
Contact your doctor or healthcare professional if you observe that the erection lasts longer than 4 hours or if it becomes painful. This may be a sign of critical problem and must be treated right away to prevent permanent damage. If you experience symptoms of nausea, faintness, chest pain or arm pain upon initiation of sexual activity. You should refuse from further activity and call the doctor as soon as possible. Do not drink alcohol in excess form while taking medicine. If alcohol is taken in excessive quantity, it may improve the chances of getting a headache or faintness, increasing your heart rate or lowering your blood pressure.
Before taking Tadalis SX: -
Do not take this medicine with any of the medicines which are interacting with Tadalis like:
Nitrates like amyl nitrate, isosorbide dinitrate mononitrate, and nitroglycerin.
Certain drugs for high blood pressure
Drugs used for medicate on HIV infection or AIDS
Drugs used for the treatment on fungal or yeast infections like, fluconazole, itraconazole, ketoconazole, and voriconazole
And if you have eye or vision problems, including a rare inherited eye disease, Heart disease, angina, a history of heart attack, irregular heartbeat, high BP problem, Kidney or liver pressure, stroke etc. This is not a complete list of interacting medicines. Also tell your doctor if you are smoker, drinker or using dietary supplements or medicines which are listed above or using illegal drugs or if you are taking prescription and non-prescription drugs.